Does Ionithermie Cellulite Reduction Treatment work? Is it safe? Is it expensive? Learn what you should know about Ionithermie Cellulite Reduction Treatment, before you decide to go for it.
The increasing obesity and inactivity levels globally has worsened cellulite over the past few years. As more people become overweight and inactive due to advancing technologies as well as lifestyle factors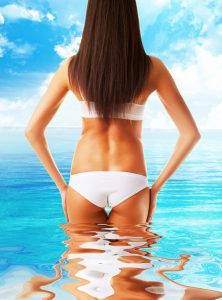 such as busy schedules, cellulite is becoming more prevalent. Since women are the worst affected by cellulite, their search for an effective treatment is at an all-time high. Below we are going to review a treatment that has been here for a while, but is has only gained traction recently as a cellulite treatment.
Ionithermie: What Is It?
To understand Ionithermie Cellulite Reduction Treatment, it's important to define Ionithermie. Ionithermie is made up of five important elements, namely; faradic stimulation, galvanic stimulation, conductive thermal aroma clay, micronized algae and biotechniques rand products. Although not all Ionithermie treatments use all of the above elements, these elements form the basis of Ionithermie treatments.
Ionithermie Cellulite Reduction Treatment
Ionithermie Cellulite Reduction Treatment is a special Ionithermie treatment that focuses on reducing cellulite. The treatment claims to reduce the unpleasant appearance of cellulite while detoxifying and slimming the body.
The treatment involves slathering micronized algae and conductive thermal aroma clay on the treatment area which is then wrapped in a plastic and electrodes attached. The treatment sessions which take place mostly in beauty salons/spas lasts for 30 minutes, but may vary depending on the size of the treatment area.
Ionithermie Cellulite Reduction Treatment claims to help detoxify and slim the body which in turn gets rid of cellulite. According to many reviews, the treatment isn't uncomfortable or painful.
Side Effects
Ionithermie cellulite reduction treatment might cause some mild redness and/or mild irritation. The treatment hasn't, however, been associated with any harmful side effects.
Precautions
The treatment isn't suitable for individuals who are allergic to iodine since the algae used for treatment is mostly iodine.
No. of Procedures Needed
One procedure won't help you get rid of cellulite. In most cases, it will take several treatments to get rid of cellulite.
Pre-treatment Considerations
You need to get medical advice first before you seek Ionithermie cellulite reduction treatment since the treatment may not be ideal for everyone i.e. if you are allergic to iodine or have a pre-existing medical condition since some medical conditions contraindicate the treatment.
It's also worth noting that your photos and measurements need to be taken before you receive your first treatment and during treatment to gauge the results. Your treatment area also needs to be prepared by dry-brushing and application of some active gels and creams.
Post-treatment Conditions
Ionithermie Cellulite Reduction Treatment should be combined with light exercise every day for you to get the best results. Also, you shouldn't go for any heat treatments for a few days since your skin may be more sensitive after Ionithermie treatment. Also, remember to hydrate as much as possible during the course of treatment to help your body get rid of the broken down toxins effectively. It's also important to use the Ionithermie home care products you receive and stick to a healthy diet plan after treatment to enhance the results.
Does Ionithermite Cellulite Reduction Treatment Work?
The treatment appears to work according to most reviews online. Many people claim the treatment makes you slimmer. The science behind it, however, remains a mystery. Nevertheless, the treatment appears to be safe if you consult your doctor first. It is however important to note that you need plenty of treatments to get the desired results. Considering each treatment costs a few hundred dollars, the treatment can be costly if you need many treatments.
In a nutshell, there is no harm in trying the treatment after seeking medical advice, however, there are better, cheaper and more effective cellulite reduction techniques out there like doing targeted exercises and dieting. Furthermore, this treatment suggests that you need to exercise and eat well to get the best results so you already know what counts most.
>>> Download Free eBook – How to Kill Your Cellulite Naturally <<<