Although there are a lot of different cellulite remedies, most of them are expensive remedies that can't be applied at home. In this article you can learn about four natural cellulite home remedies that are either free or inexpensive. You don't need to spend a lot of money to reduce cellulite.
Natural remedies/treatments are the best because they aren't accompanied by side effects. Natural remedies also stand out because they help the body use its own natural defenses and mechanism. As a result, we should always strive for natural remedies when treating anything including cellulite.
Although there are a number of natural remedies for cellulite, our focus will be on some of the best and most effective. Let's get right into it.
1. Drink Plenty of Water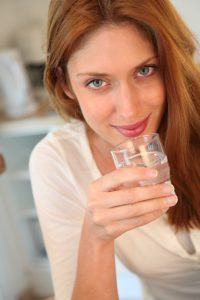 Keeping yourself hydrated is one of the most important keys to getting rid of cellulite. Water plays a crucial role in fighting cellulite because it helps the body flush out toxins.
When the body is free of harmful toxins, the body performs optimally i.e. burns fat more effectively which keeps cellulite at bay.
Furthermore, well hydrated skin has a healthy glow that reduces the appearance of cellulite significantly. You should drink 8 to 10 glasses of water a day to keep cellulite at bay.
If you don't like taking a lot of water, you can drink plenty of liquids i.e. natural juices instead. You should avoid carbonated drinks as well as other similar kinds of drinks packed with artificial sweeteners and other chemical additives such as preservatives.
2. Reduce your sugar and salt intake
This is another great natural remedy for cellulite. It is important to note that excess sugar in the body is converted and stored as fat under the skin. Some sugar also finds its way into fat cells, causing them to expand and form cellulite.
Excess salt is also bad for cellulite since it causes water retention worsening the appearance of cellulite. It is therefore important to reduce your sugar and salt intake to be able to reduce and eventually get rid of cellulite naturally.
3. Workout
This is by far one of the most effective natural remedies for cellulite. Exercise is so effective since it tackles the root causes of cellulite.
Exercise gets rid of excess fat under the skin, helps to balance hormones, boosts energy levels in the body, tightens the skin, strengthens the immune system and provides many other health benefits which help to prevent or get rid of cellulite directly and indirectly.
There are many exercises for targeting cellulite-prone areas. These exercises include; squats, step-ups, sit-ups, lunges, etc. Doing such exercises will help you get rid of cellulite naturally in cellulite prone areas. In my opinion the easiest and fastest way to get rid of cellulite is by doing Joey Atlas exercises.
4. Moisturize naturally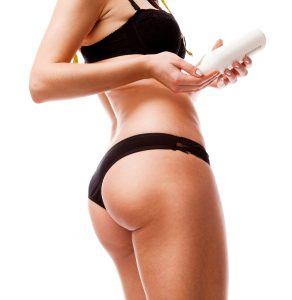 Cellulite is a common problem mostly because of appearance. If people didn't notice cellulite, it wouldn't be much of a problem.
Unfortunately, that's not the case. One of the best ways of reducing the appearance of cellulite is moisturizing with anti-cellulite creams.
Most anti-cellulite creams are, however packed with chemicals which come with side effects. It is therefore better to use 100% natural creams since such creams don't have harmful side effects. They are also more effective. Coconut oil is one of the best natural skin moisturizers. The oil increases skin hydration/prevents water loss which improves the appearance of cellulite. Furthermore, the oil contains healthy vitamins (Vitamin –E) and proteins known to boost skin health.
Summary
You can prevent or get rid of cellulite naturally by drinking plenty of water, reducing your salt and sugar intake, working out as well as moisturizing naturally. The above natural remedies for cellulite are 100% safe and effective.
You don't need any artificial creams or artificial procedures when you have the above remedies which have been tested and proven to work. Although there may be other natural remedies to consider, the above remedies stand out from the rest.
Click Here for more information about cellulite and its causes.