Somatoline products are great for cellulite and slimming. They are very popular in Europe, but not well-know in the United States. Let's take a look at some of Somatoline products.
Somatoline cosmetics are the products made by the Somatoline Cosmetic Company. The company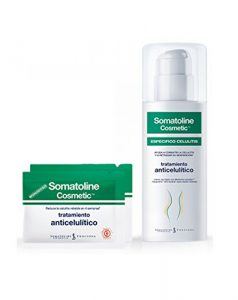 specializes in making slimming products, both for women and men, that can be used at home, leading to the successful weight loss at home.
I have learned about Somatoline, while searching and testing for good anti-cellulite creams. I have already reviewed the Somatoline Anti-Cellulite Cream here, but at that time I haven't described all the different Somatoline anti-cellulite products for women.
I was very happy with Somatoline for cellulite, but lately I have also found out that Somatoline works also very well for weight loss.
Somatoline Anti-Cellulite Products for Women
There are three main Somatoline anti-cellulite products: Somatoline Anti-cellulitis, Somatoline Cosmetic Anti-Cellulite Resistant Cellulite 15 Days, and Somatoline Anti-Cellulite Encrusted Cellulite Intensive Action. Let me describe how they work and what are the differences between them.
Somatoline Anti-cellulitis
Somatoline Anti-cellulitis is a special cream that fights the cellulite on the rebellious areas, it means the areas where cellulite comes back again and again. I'm a strong believer that to really get rid of cellulite for good, you must exercise and take some anti-cellulite supplements.. I got rid of cellulite thanks to the Naked Beauty Exercise Program as taught by Joey Atlas. You can also keep the cellulite at bay with those exercises, but if you don't have time to exercise, then Somatoline Anti-cellulitis is for you. You need to apply just 1 sachet a day of Somatoline and massage it according to the instructions.
Thanks to Phytocellactive complex in the Somatoline, the rebel cellulite can be reduced 33 percent in four weeks.
Somatoline Cosmetic Anti-Cellulite Resistant Cellulite 15 Days
This is a very strong and fast acting anti-cellulite product, that brings a visible reduction in the appearance of cellulite in only 15 days. To get rid of cellulite completely, it is recommended, though, to continue the treatment for four weeks.
This Somatoline product also has Phytocellactive complex, but it also has caffeine and ginger extract for faster results. Apply one sachet a day. It can be bought at Amazon.com and it costs $105.65 at the moment of writing.
Somatoline Anti-Cellulite Encrusted Cellulite Intensive Action
This product is for fighting very stubborn, pronounced cellulite, which is very difficult to get rid of. It is especially recommended for women with cellulite that is very marked, the cellulite of the first degree. It requires to be applied only once a day.
Somatoline Slimming Products for Women
Although I used Somatoline for cellulite, the company is actually famous for its many slimming products. Let me shortly describe some of them below:
Somatoline Cosmetic Amincissant intensif 7 nuits
This product has very good reviews on Amazon.com. It's a very fast acting cream that brings visible results only after seven nights. It works especially well at removing artificial fat on hips, thighs and waist. Its main ingredients are marine salts, brown and red algae, and pink pepper extract.
Somatoline Hips and Stomach Treatment
This product is for slimming hips and stomach area, and has also very good reviews on Amazon.com. My friend recommends it as one of the best slimming creams for the abdominal area.
Somatoline Intensive Treatment Resistant Areas
This serum is great for removing fat on arms, hips, thighs, knees and hips, especially the resistant, localized fat deposits.
There are many other Somatoline Cosmetic products. You can find them on Amazon.com here.
If you're looking for an easy way to get rid of cellulite, check out my Cellinea Pills Review.